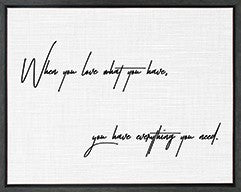 When you love what you have, you have everything you need. / 38"x28" Framed Canvas
We take pride in the spirit of creating new from old. Our framed canvas artwork is providing an alternative route for plastic and styrofoam that was headed for the landfill.
Solid, well-built frames consisting of mostly recycled material make a positive impact on the environment, and a statement in your home.
Let's leave the world a better place for our children. Isn't that what it's all about?